We all love our pets because they are fun, and know how to manipulate us into buying their favourite foods, letting them sleep in our favourite chair, and being alert to the smallest alteration in their demeanour, potentially resulting in a costly vet bill! They are worth it because they are integral to our daily lives, important contributors to our wellbeing. Just this year, 2.2 million dogs and 1.7 million cats have been purchased.
Yet, too often, moving to a retirement complex or care home means giving up a pet, whether dog or cat (or even a caged bird or tropical fish), inflicting heartbreak at a time of change, instead of optimism. Some retirement flat developers even exploit the elderly by charging fees to keep a pet.
But this doesn't have to happen. Thanks to The Cinnamon Trust, which counts Sir Paul McCartney amongst its patrons, there are hundreds of retirement and care home complexes across the country which actively encourage residents to have (well-behaved) pets, without punitive fees.
The Trust is hyper active, supporting elderly residents with their caring responsibilities, through 17,000 volunteers, helping over 150,000 people annually with dog walking, vet visits, fostering, and even legal guardianship if necessary. They are a vital safety net.
Every two years, they inspect the properties recommended on their website (cinnamon.org.uk/pet-friendly-care-homes) to ensure they are up to standard, and make annual awards to celebrate the best.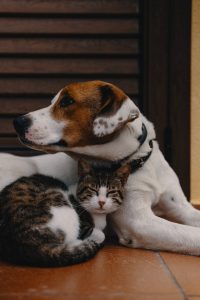 During the current crisis, as elderly people face greater isolation than normal, with friends and family unable to visit in some areas, pets are more important than ever, reducing loneliness and stress. Pets bring a daily routine to our lives, giving us a reason to get out of bed, even if sad or depressed, because they need us and return our love with a wagging tail or loud purr.
Dogs, especially highly trained guide and hearing dogs, are essential to many, supporting good health with daily exercise and – under normal conditions – encouraging social engagement with other people. Who can resist admiring and patting a handsome dog – or trying to charm a smug cat?
So, if you are thinking of a move, take the time to explore your chosen location, visiting retirement and care home complexes to see just how pet friendly they are; many older people remain fit well into their 90's so there is no need to sacrifice a much-loved pet when you decide to downsize into a caring environment.
The secret to a happy retirement, with your pet, is not only having the right accommodation, with secure access to protect its safety, but ensuring that you have the right insurance to cover vet's bills when necessary.
Our knowledgeable advisers at Premier Equity Release can not only assist with pet and general insurance, but with financial advice associated with moving house in one's later years, releasing equity on an existing property to realise aspirations for a secure future. Just give us a call.