Below we outline the main costs of setting up an Equity Release plan, but please bear in mind that each plan will have its differences. As part of the process, you will get a personalised illustration with more detail on the charges involved and how they might affect your plan, but these are the general items to bear in mind:
Valuation fee
The valuation is conducted by an independent representative appointed by the lender and, depending on your property type and location, it could be either a quick inspection or a more thorough survey. The survey is for the lender's use only, the fee varies and can sometimes be free of charge.
Arrangement fee
Some lenders charge a fee to set up the mortgage and this will be confirmed in your illustration and also your written offer. It is usually a set amount and is paid when you receive your money or it can be added to the loan. Bear in mind, if it is added to the loan, you will also need to pay interest on this amount.
Your solicitor's fees
This will be between you and your solicitor. The lender also has legal fees, but these are covered by the arrangement fee. Do you need a trustworthy solicitor? We work regularly with professional legal advisers, with more experience in Equity Release than most, who we can recommend.
Consultation fee
This is Premier's fee for the advice and service we give to you. Many brokers charge a percentage of the amount of money you get (sometimes around 1.9%), but here at Premier we like to keep things plain and simple, and charge a set flat fee. It's only payable if you go ahead with the Equity Release, and upon completion. So if you don't go ahead, you don't pay anything.
Interest rates
Obviously, we can't give you a specific figure on this page. The rate will vary according to the prevailing rates at the time you take out your plan, and which lender you work with, but we can say that it will be fixed for the life of the loan. We will discuss it up front and also cover it in your personalised illustration.
Good news – it's not all one-way
Equity Release is now a very competitive field, and more lenders are finding ways to offer incentives to use their service. Some may offer added benefits to get your business, or others will provide lower interest rates to those looking to take more money.
Free property valuations are now common, and there may be times when a lender contributes to other costs (for example, covering the arrangement fees). We will take all these factors into account when recommending the most suitable Equity Release scheme for your circumstances.

Request our Equity Release brochure
REQUEST BROCHURE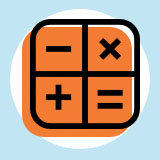 How much equity could I access?
CALCULATE NOW
What else would you like to know?