There are two main types of equity release available to UK homeowners. Here, we provide a little more detail on each:
1. Lifetime Mortgage
This is the most popular type of equity release and is usually available to homeowners aged 55 and over. You can take either a single tax-free lump sum or, with some plans, multiple "drawdowns" as and when you need the money. The advantage of multiple drawdowns is that you will only be charged interest from the date the money is released to you. You don't have to make any repayments while you continue to live in the property, although some types of plan offer the option of making repayments towards the interest that builds up. These are known as Interest-Only Lifetime Mortgages.
The amount you can borrow with a lifetime mortgage varies between different plans and providers, but typically the maximum is between 50% and 60% of the current value of your property. The amount of equity you can release will depend upon the value of your home, your age and your health – so-called "enhanced lifetime mortgages" may allow homeowners with certain past or current medical conditions to borrow more.
The "no negative equity guarantee" means that when your home is sold after you die or move into long-term care, neither you nor your estate will be liable to pay any more if the proceeds of the sale are not enough to repay the provider the loan and total amount of interest that has rolled up. With most lifetime mortgages, you have the right to move home, provided the new property is acceptable to the plan provider as continuing security for the loan.
2. Home Reversion
With a home reversion plan, you sell all or part of your home to the plan provider in exchange for either a single lump sum or multiple payments. The amount you receive will be below the market value of your home – typically somewhere between 20% and 60% of your property's current value. As with a lifetime mortgage, you can remain living in your home until you die or move into residential care, and won't need to make any regular repayments or rental payments, provided you agree to maintain and insure the property.
The percentage of your home you retain will always be the same, no matter how the value of the property fluctuates. You can of course take further cash releases, which will affect the portion of your property that you own. At the end of the plan, your property is sold and the sale proceeds are shared according to the final percentages of ownership.
Home reversion plans are usually aimed at older homeowners – the minimum age is typically 60 or 65. The actual amount you will be able to borrow will vary from one provider to the next, but usually the older you are the more you will be able to borrow. With most plans, you will be able to move home if you wish to, subject to the plan provider agreeing that the new property is suitable security for the equity release.
Ring-Fencing
There are products within both of the above types of equity release that allow you to ring-fence a percentage of your property, or perhaps a certain amount of the monetary value, for inheritance or some other later use.
Drawdown Equity Release
With both options, you are also able to release your equity in smaller increments to provide a more steady tax-free income rather than a lump sum. This is known as Drawdown Equity Release. The advantage of this is that interest will only be due on the amount you take out, so initially your interest will be smaller than if you had taken all the equity in one go.

Request our Equity Release brochure
REQUEST BROCHURE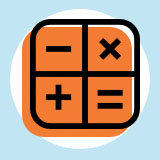 How much equity could I access?
CALCULATE NOW
What else would you like to know?
Who do we work with?
There are a few key providers in the Equity Release market that also work within the Equity Release Council's guidelines. As trusted providers, we're happy to work with all of them: