Lifetime Mortgage
When it comes to making informed decisions about your property, understanding your options is paramount.
One of the most frequently asked questions is, "What is a lifetime mortgage?" Allow us to clarify.
A lifetime mortgage is a type of equity release—a loan secured against your home that permits you to release tax-free funds without the requirement to move out.
As with any loan there is however interest to pay which can be paid via two options – it's either added to the loan throughout your lifetime, or you can pay back some or all every month. The loan is paid back when you move into long-term care, or when you die.
If you choose to pay off some of the interest each month it will reduce the amount of interest added over the time of the mortgage and therefore reduce the amount of money of money owed when the time comes. This could be something to think about when thinking of inheritance to your loved ones.
Here's an example of how a lifetime mortgage would work
Picture this: you're a homeowner aged 60, and while you love your home, you wish to renovate it or even help your grandchild with their university fees – the choice is yours as there are many uses for equity release.
By opting for a lifetime mortgage, you can tap into the value of your home and achieve these goals, and the best part? There's nothing to repay until you either pass away or move into long-term care.
However, remember, like every financial decision, there are both advantages and disadvantages to consider.

Request our Equity Release brochure
REQUEST BROCHURE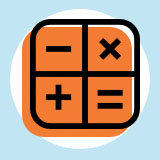 How much equity could I access?
CALCULATE NOW
Advantages of a lifetime mortgage:
Tax-free Cash: After securing a lifetime mortgage, you can take a lump sum all at once or as a series of smaller amounts, giving you flexibility.
Versatile Spending: Whether it's for home modifications, aiding family members with property purchases, or supplementing retirement income, the choice of spending is entirely yours.
No Mandatory Repayments: Unless opted, repayments are not required until the end of the loan term.
Stay in Your Home: You can reside in your home for the rest of your life or until you shift to long-term care.
Inheritance Protection: By selecting the Inheritance Protection option, you can ensure a part of your home's value is preserved for your heirs.
No Negative Equity: You will never repay more than the worth of your home upon its sale, even if the amount is less than the loan due.
Disadvantages of a lifetime mortgage:
Rising Interest: If interest isn't paid regularly, it can compound and grow rapidly.
Reduced Inheritance: Despite protective options, a lifetime mortgage can decrease your inheritance value.
Potential Impact on Benefits: Releasing equity could affect certain means-tested state benefits.
Higher Interest Rates: Lifetime mortgages often have rates higher than standard mortgages.